Taunts
How do I activate Taunts?
Always type "/" command before typing any Taunt numbers to correctly activate Taunts
How do I know what Taunts are available to me?
You can always visit your Taunt collections from the left navigation panel in the Player Profile screen, alternatively you can find it in the Pause Menu in Multiplayer games.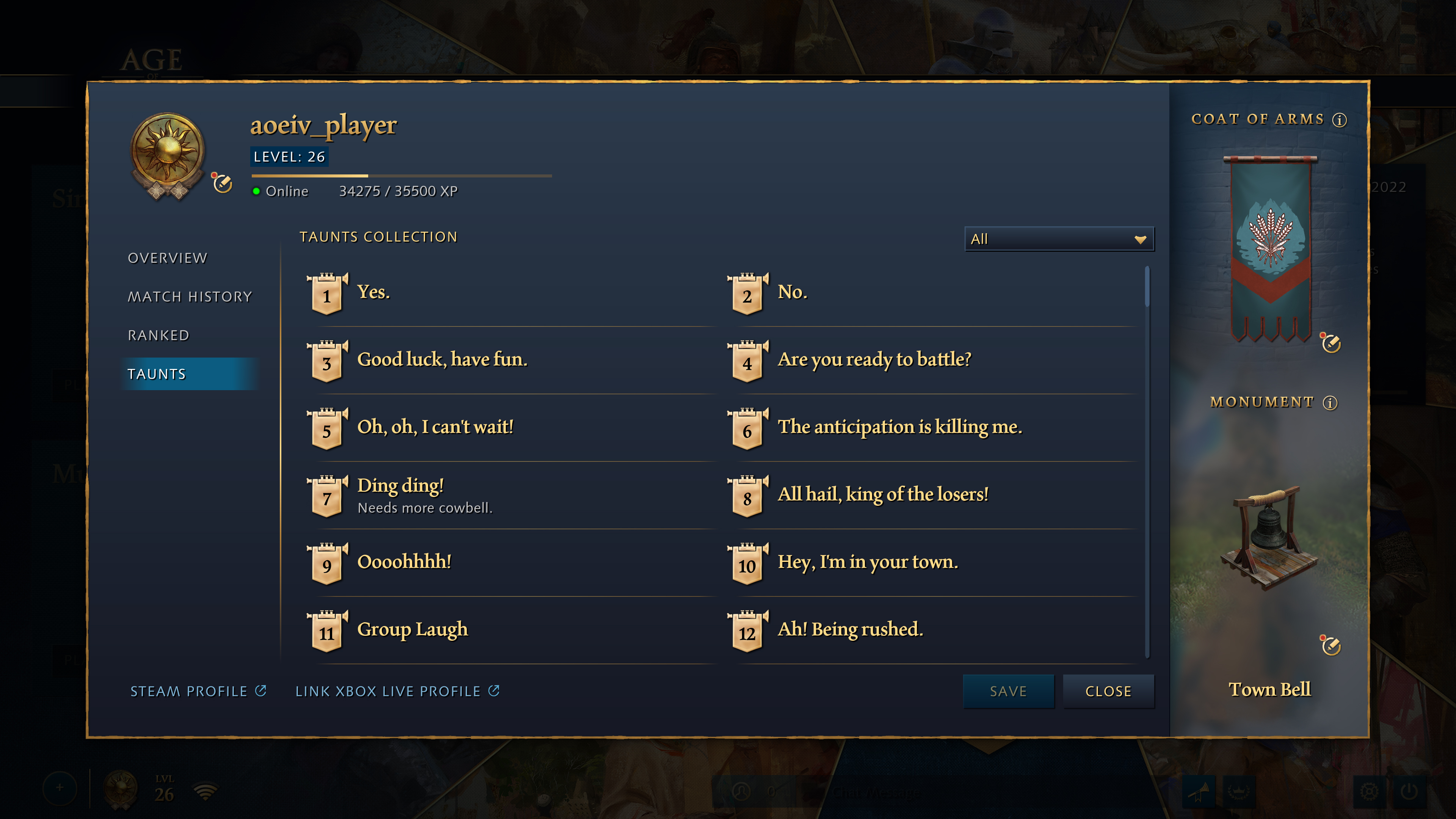 Can I preview Taunt messages before I send them?
Yes, we have provided players with a new Taunt preview feature, so you can preview the messages upon typing out the correct Taunt number.
Why can't I send out some Taunts?
Some of the Taunts are locked by default and can only be obtained by completing certain requirements such as finishing a Ranked Season.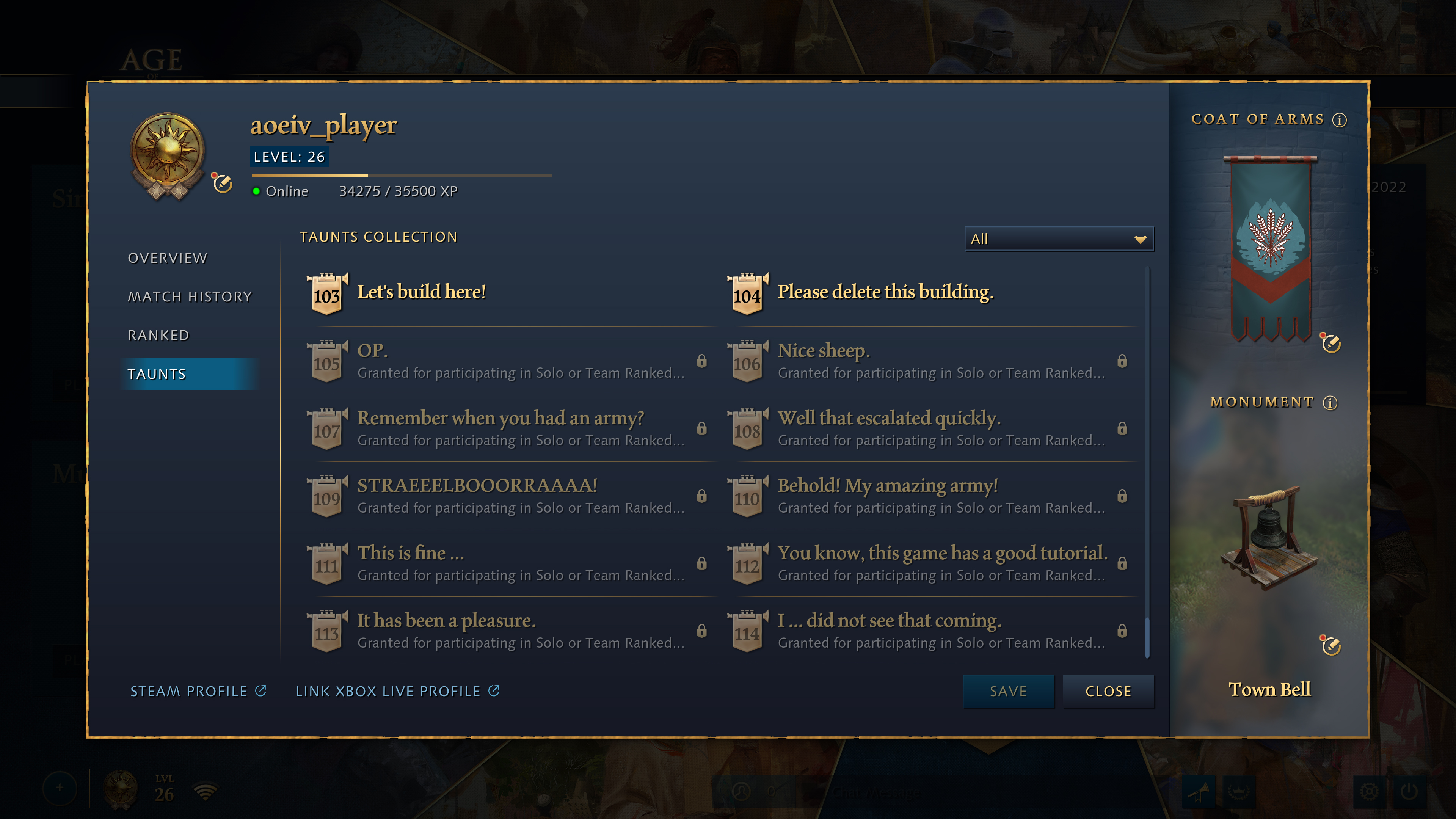 Can I mute Taunts if I don't want to receive them?
Players can disable Taunts under the Online Settings to stop receiving or experiencing Taunts altogether.
Can I turn down the volume of Taunts?
There is a volume slider dedicated to Taunts under the Audio settings.
Cheats
How do I use a Cheat in a Custom match?
In the chat window, type in the name of the Cheat you want to use.
I've copy-pasted a Cheat name into chat but it's not working in game, what do I do?
When you copy-past a Cheat into chat please be sure to remove any extra spaces that may have accidently been included.
How do I enable Cheats in a game?
Create a Custom game, and make sure the Cheats Allowed box is checked in the settings.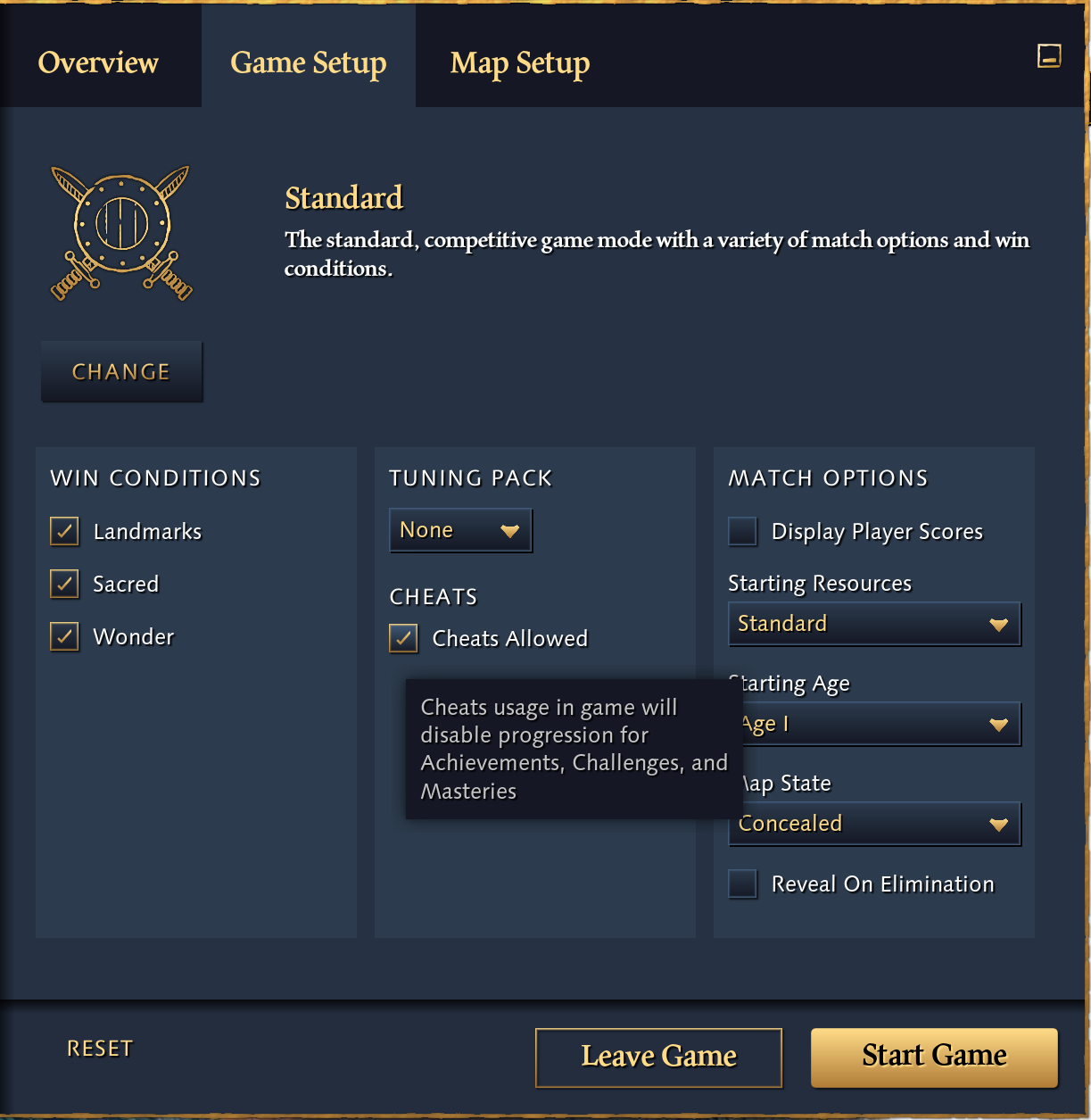 When can I use Cheats?
Cheats can be used in Custom games, Skirmish games when the Cheats Allowed box is checked, while only a few specific cheats can be used in Campaign missions. Cheats cannot be used in any of the Quick Match or Ranked Modes.
Can I use Cheats and still get progression to count towards Achievements, Challenges and Masteries?
No, Cheats will stop any progression towards Achievements, Challenges, and Masteries after Cheats have been used in any given game.
Cheats
| | | |
| --- | --- | --- |
| Cheat | Code | Game Modes: Must have Cheats Enabled |
| Spawn a Photon Man Unit | photon man | Custom/Skirmish |
| Instantly Build, Research and Produce units | inna jiffy | Custom/Skirmish |
| Grant myself Food Resources | full meal deal | Custom/Skirmish/Campaign |
| Grant myself Gold Resources | i have an app idea | Custom/Skirmish/Campaign |
| Grant myself Stone Resources | take it for granite | Custom/Skirmish/Campaign |
| Grant myself Wood Resources | knock on wood | Custom/Skirmish/Campaign |
| Grant myself 100000 of all resources | smorgasbord | Custom/Skirmish/Campaign |
| Instantly Lose the Game | i give up | Custom/Skirmish |
| Remove Fog of War | it was known | Custom/Skirmish |
| Reveal/Hide Map | it is known | Custom/Skirmish |
| Slow down simulation in a Campaign Mission | another round | Campaign/Skirmish |
| Enable Turbo Mode in a Campaign Mission | another cup | Campaign/Skirmish |
| Age Up Instantly | age me up scotty | Custom/Skirmish |
| Kill Selected Units and Buildings | make it quick | Custom/Skirmish |
| Make all units and buildings invulnerable | anti-poke | Custom/Skirmish |
| Kill all Gaia | you monster | Custom/Skirmish |
| Max Pop Cap | king size beds | Custom/Skirmish/Campaign |
| Spawn one of each core unit | at the core | Custom/Skirmish |
| Turn Sheep into Wolves | big bad sheep | Custom/Skirmish/Campaign |
| Replace the attack notification alarm with the AoE2 alarm | out with the new | Custom/Skirmish/Campaign |
| Convert selected units | one of us | Custom/Skirmish |
| Set selected buildings on fire | this is fine | Custom/Skirmish |
| Teleport my selected units to my cursor | zeleport | Custom/Skirmish |
| Hide or Show the UI | minimally minimal | All game modes |