Overview
---
The Build menu contains controls for building your mod.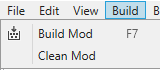 Build Functions
Menu Item

Description

Build Mod

Takes all the content that is in your mod, packages it, and burns it so you can play your game mod.

Clean Mod

Deletes all the temp files associated with your mod.

Note that "Clean" function in the Build menu differs from the "Clean" functions in the Burn menu.